Patil, R.
Rahul Patil is the Lead Research Scientist in the refining R&D division of Reliance Industries Ltd. He has 14 yr of experience in debottlenecking, computational fluid dynamics and process modeling, as well as in the optimization of various petroleum refinery and petrochemical units. Mr. Patil earned a Bch degree in chemical engineering from the Institute of Chemical Technology, in Mumbai, India, along with an MTech degree in chemical engineering from IIT–Kanpur.
Extractive distillation is one of the most efficient techniques to separate aromatic and non-aromatic hydrocarbons by increasing the relative volatility of the mixture in the presence of a solvent.
Flow distribution is widely encountered in refinery operations, such as air distribution to burners, fluid distribution to parallel heat exchangers and the distribution of reactants in reactors.
Uniform flow distribution inside process equipment is desirable for maximizing performance.
Polyvinyl chloride (PVC) is the world's third-most widely produced commodity polymer, after polyethylene (C<sub>2</sub>H<sub>4</sub>)n and polypropylene (C<sub>3</sub>H<sub>6</sub>)n.
The vacuum distillation (VD) unit in the petroleum refinery separates the heavier fraction of crude oil from the atmospheric distillation unit (ADU) into light vacuum gasoil (LVGO) and heavy VGO (HVGO..
A delayed coker unit thermally cracks vacuum residue (VR) and converts it into products like liquefied petroleum gas (LPG), naphtha, gasoil and petroleum coke. A majority of the thermal cracking takes..
Current Digital Edition
Sign up to Receive Our Newsletter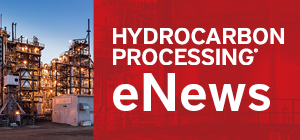 Latest News
Construction Boxscore: Project Spotlight
Project:
Long Son Petrochemicals Complex
Location:
Long Son, Vietnam
Operator:
Siam Cement Group
Cost:
$5.4 B
Capacity:
1.65 MMtpy
Completion date:
2023
Status:
Under Construction