Kumar, S.
Dr. Sunil Kumar is working as a Senior Scientist at CSIR-Indian Institute of Petroleum, Dehradun, in the separation process division. His research areas include solvent extraction for aromatic production and recovery, extractive desulfurization of gas oil and fuel oil, crude fractionation into products, production of methanol and DME, and lifecycle analysis of biofuels. He holds two US patents, and has authorship in three US and nine Indian-filed patents covering nine different processes. He has also completed various industrial projects aimed at technology and process development, revamp, optimization and simulation model development of processes, energy conservation and process integration.
Solvent deasphalting (SDA) is emerging as a low-cost, bottom-of-the-barrel upgrading process to recover valuable oil from short residue. This oil can either be further processed to make lube-oil-based stocks or cracked in secondary processing units.
The solvent-recovery section of the deoiling unit for wax production consumes substantial energy. In this study, the effects of operating conditions (pressure), energy consumption and cost, and proces..
Novel catalysts can improve the oxidation of thiols (RSH) found in light oils. Thiols in petroleum products, such as liquefied petroleum gas (LPG) and light straight-run naphtha (LSRN), usually found ..
Conceptualization and economic models looked at scenarios to process clean gasoline, diesel from domestic feedstock
Current Digital Edition
Sign up to Receive Our Newsletter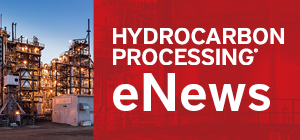 Latest News
Construction Boxscore: Project Spotlight
Project:
Long Son Petrochemicals Complex
Location:
Long Son, Vietnam
Operator:
Siam Cement Group
Cost:
$5.4 B
Capacity:
1.65 MMtpy
Completion date:
2023
Status:
Under Construction