Gupta, A.
Ajay Gupta is the Principal Researcher in the R&D division of Reliance industries Ltd. He has 35 yr of experience in the petroleum and petrochemical industries. His areas of interest include modeling simulations, advanced process control, reactor hydrodynamics, and the scale-up of equipment. Dr. Gupta earned BTech and MTech degrees, as well as his PhD, from IIT–Delhi.
Extractive distillation is one of the most efficient techniques to separate aromatic and non-aromatic hydrocarbons by increasing the relative volatility of the mixture in the presence of a solvent.
The delayed coking unit (DCU) is the technology of choice for the upgrade of heavy hydrocarbon residues—i.e., bottom-of-the-barrel upgrading.
Flow distribution is widely encountered in refinery operations, such as air distribution to burners, fluid distribution to parallel heat exchangers and the distribution of reactants in reactors.
Liquid-liquid extraction (LLE) is a traditional method used for separating a specific component (solute) from the carrier liquid phase.
Uniform flow distribution inside process equipment is desirable for maximizing performance.
Polyvinyl chloride (PVC) is the world's third-most widely produced commodity polymer, after polyethylene (C<sub>2</sub>H<sub>4</sub>)n and polypropylene (C<sub>3</sub>H<sub>6</sub>)n.
The efficient operation and design of any reactor depends on the know-how regarding the chemical reaction and the hydrodynamics inside the reactor.
Current Digital Edition
Sign up to Receive Our Newsletter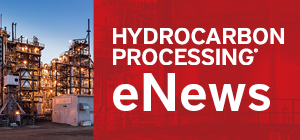 Latest News
Construction Boxscore: Project Spotlight
Project:
Long Son Petrochemicals Complex
Location:
Long Son, Vietnam
Operator:
Siam Cement Group
Cost:
$5.4 B
Capacity:
1.65 MMtpy
Completion date:
2023
Status:
Under Construction