Garg, M. O.
Dr. M. O. Garg is an expert in petroleum refining and petrochemicals, and has been instrumental in developing and commercializing a large number of technologies in Indian refineries. A graduate from Nagpur University and a post graduate from IIT Kanpur, Dr. Garg completed his PhD in solvent extraction from the University of Melbourne. His areas of specialization include solvent extraction, process integration, advanced control, simulation and modeling. He has published more than 260 papers in journals and holds 50 national and international patents. He has been elected a Fellow of the Indian National Academy of Engineers.
Solvent deasphalting (SDA) is emerging as a low-cost, bottom-of-the-barrel upgrading process to recover valuable oil from short residue. This oil can either be further processed to make lube-oil-based stocks or cracked in secondary processing units.
The solvent-recovery section of the deoiling unit for wax production consumes substantial energy. In this study, the effects of operating conditions (pressure), energy consumption and cost, and proces..
Novel catalysts can improve the oxidation of thiols (RSH) found in light oils. Thiols in petroleum products, such as liquefied petroleum gas (LPG) and light straight-run naphtha (LSRN), usually found ..
New hydrocarbons will be needed to meet future demand
Conceptualization and economic models looked at scenarios to process clean gasoline, diesel from domestic feedstock
Many factors influence the possibility of new fuels replacing gasoline and diesel
Current Digital Edition
Sign up to Receive Our Newsletter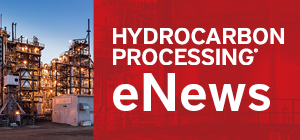 Latest News
Construction Boxscore: Project Spotlight
Project:
Long Son Petrochemicals Complex
Location:
Long Son, Vietnam
Operator:
Siam Cement Group
Cost:
$5.4 B
Capacity:
1.65 MMtpy
Completion date:
2023
Status:
Under Construction