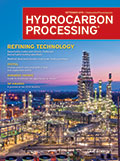 September 2019
Special Focus: Refining Technology
Horizontal distillation column technology
Gas-liquid contact operations are required for the separation of mixtures based on differences in the chemical properties (volatility, solubility, etc.) of various components.
Process Control and Instrumentation
Hydrocarbon Processing Awards
Hydrocarbon Processing Awards
<i>Hydrocarbon Processing,</i> the downstream processing sector's leading technical publication, has announced the finalists for its third annual awards.
Maintenance and Reliability
Water Management
Are produced water emissions factors accurate?
Rules of thumb are often required to estimate hydrocarbon emissions from produced water storage tanks due to a lack of sampling or inadequacies of sample analysis—the "1% rule" being the most common.
Columns
Current Digital Edition
Sign up to Receive Our Newsletter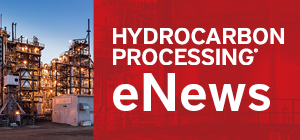 Latest News
Construction Boxscore: Project Spotlight
Project:
Long Son Petrochemicals Complex
Location:
Long Son, Vietnam
Operator:
Siam Cement Group
Cost:
$5.4 B
Capacity:
1.65 MMtpy
Completion date:
2023
Status:
Under Construction