Training simulator to aid ethylene operatorsHyperion Systems Engineering has delivered to the Linde Group an operator training simulator (OTS) for ONGC Petro-additions Ltd.'s ethylene plant in Da..
Corrosion coating adds to petrochemical safetyPetrochemical plants are expected to remain safely and efficiently operational for decades, with little downtime and unplanned maintenance. To protect equ..
Gulf Publishing Company held its inaugural Eastern Mediterranean Gas Conference (EMGC) at the Hilton Cyprus in Nicosia, Cyprus, from April 8–10. The event surpassed expectations in terms of both ..
Membrane element improves gas processingUOP's new Separex Flux+ membrane element is designed to increase natural gas processing capacity, compared with existing technology, allowing producers to captu..
Flowmeter uses Coriolis force in measurementThe Sitrans FC430 flowmeter from Siemens AG is capable of measuring liquids and gases using the Coriolis principle. Flows can be measured with a precision o..
Coating system gets European patentHempel's Ultra-High Solids and Speed (UHSS), a two-coat protective paint system certified for C5-M and C4 corrosive environments, has been granted a patent from..
Eastern Mediterranean Gas Conference (EMGC) 2013Eastern Mediterranean Gas Conference (EMGC) 2013 is the comprehensive, breakthrough meeting for professionals working in, and seeking to be involved in,..
UK firm patents mid-scale LNG technologyGasconsult Ltd. has announced the award of a patent for its new ZR-LNG liquefaction process. ZR-LNG has best-in-class energy efficiency for mid-scale liquefied ..
FLNG needs offshore know-howMore and more developers are considering floating liquefied natural gas (FLNG) as a strong option for monetizing gas resources. The sustained work over the last five years ..
Invensys acquires Spiral SoftwareInvensys Operations Management has acquired Spiral Software, a privately held company headquartered in Cambridge, UK. Spiral Software provides integrated solutions ran..
Current Digital Edition
Sign up to Receive Our Newsletter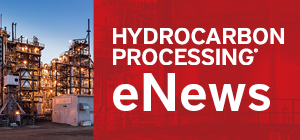 Latest News
Construction Boxscore: Project Spotlight
Project:
Long Son Petrochemicals Complex
Location:
Long Son, Vietnam
Operator:
Siam Cement Group
Cost:
$5.4 B
Capacity:
1.65 MMtpy
Completion date:
2023
Status:
Under Construction