Ingersoll Rand debuted its TURBO-AIR NX 8000 integrally geared centrifugal compressor at the Turbomachinery & Pump Symposia show in Houston, Texas in September.
EGC Critical Components has announced its dures brand of materials, a new family of proprietary thermoplastic polymer composites developed specifically for the manufacture of bushings, bearings and wear rings in pumps handling a wide range of liquids, including those that contain solid matter.
New valve offers zero leakagePentair Valves and Controls has expanded its Vanessa triple offset valves (TOVs) product line with the launch of the Series 30-RS.
Endress+Hauser's Loading Metering Skid (LMS) is a solution for the custody transfer of light hydrocarbons—including gasoline, diesel, jet fuel and marine gas—to and from tanker trucks, railcars and ships.
What's new in HPI innovations
Air Liquide will build the world's largest air separation unit (ASU) in Secunda, South Africa. An essential component of the 5,000-metric-ton-per-day ASU will be the AIRMAX compressor solution from MAN Diesel and Turbo, which will be the largest-dimension compressor constructed to date.
Coatings line wins innovation awardHempel's HEMPADUR AvantGuard range of products won the 2014 European Frost & Sullivan Award for the category of new product innovation. To be presented on May 1..
Domestic refiners and petrochemical producers will face changing supply and demand conditions, particularly as the sharp decrease in oil prices influences drilling decisions.
A joint industry project (JIP) has been launched between Swagelining Ltd., Saudi Aramco and The Welding Institute (TWI) to conduct investigations into the use of polymer lining in carbon steel (CS) pipelines.
Corrosion prevention for high-TAN refiningFor petroleum refiners, improving profitability by processing high-total-acid-number (high-TAN) crude oils requires an investment in high-temperature corrosio..
Current Digital Edition
Sign up to Receive Our Newsletter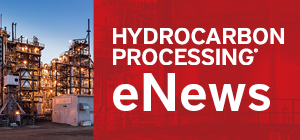 Latest News
Construction Boxscore: Project Spotlight
Project:
Long Son Petrochemicals Complex
Location:
Long Son, Vietnam
Operator:
Siam Cement Group
Cost:
$5.4 B
Capacity:
1.65 MMtpy
Completion date:
2023
Status:
Under Construction