Fluent Inc., Lebanon, New Hampshire, a leading provider of computational fluid-dynamics (CFD) simulation software and services, and Aspen Technology, Cambridge, Massachusetts, a leading supplier of ma..
BEFS PROKEM, Mulhouse, France, has taken an important step in developing its business with a stronger background by merging with PECSIE, Paris, France, (formerly owned by TREDI, Paris) forming a new c..
ABB awarded ethane cracker contract from EC Erdölchemie EC Erdölchemie GmbH (EC) has awarded the detailed and authority engineering to ABB for a new ethane cracker train at its site in Wo..
ADB Systems (ADB), Houston, Texas, has acquired the Consulting Services division of Bonner & Moore Assoc., Inc., including COMPASS, its Enterprise Asset Management software system. The division wil..
Barco, Kuurne, Belgium, a leading developer and manufacturer of multi-screen monitoring solutions, has announced that a two-year sales agreement has been undersigned with ABB Automation. Barco's pr..
ABB and Sofresid selected for basic design of IGCC facility ABB Lummus Global B. V., The Netherlands, and Sofresid S. A., France, have been awarded a lump-sum contract by TotalFina, Paris, France, ..
AC Technology Corp., Uxbridge, Massachusetts, has been acquired by Lenze GmbH, Hameln, Germany. AC Tech is a major U.S. manufacturer of industrial and commercial electronic-motor control products. ..
AEA Technology Engineering Software, New York, New York, has released MECHX, a dedicated program for the mechanical design of shell-and-tube heat exchangers. MECHX can be used for new equipment or fo..
PPG to double production capacity for Teslin sheet PPG Industries will add a second manufacturing unit at its Barberton, Ohio, chemical facility to produce Teslin sheet. When completed in late 2000..
Ashland Energy Services, Dublin, Ohio, an operating unit of Ashland Specialty Chemical Co., Dublin, Ohio, and Energy Marketing Services, Inc. (EMS), Columbus, Ohio, a pioneer in natural gas marketi..
Current Digital Edition
Sign up to Receive Our Newsletter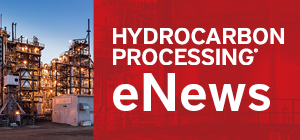 Latest News
Construction Boxscore: Project Spotlight
Project:
Long Son Petrochemicals Complex
Location:
Long Son, Vietnam
Operator:
Siam Cement Group
Cost:
$5.4 B
Capacity:
1.65 MMtpy
Completion date:
2023
Status:
Under Construction