Fisher-Rosemount, Austin, Texas, has formed a worldwide strategic alliance with Elcon Instruments, Atlanta, Georgia, to combine the power of asset management solutions (AMS) software and Elcon Instrum..
Domnick Hunter Group plc, Tyneside, England, a world-leading manufacturer of high-efficiency filtration and purification equipment, has agreed to acquire the industrial products division of HIROSS SpA..
BP Amoco purification plant to come onstream this year BP Amoco will become one of the first producers of acetonitrile to have plants on two continents when its first European purification plant comes..
ABB Lummus Global, Bloomfield, New Jersey, and China Petrochemical Technology Co. (SINOPEC TECH) have signed a cooperation agreement and formed a strategic alliance to develop and market new furnace t..
The Petroleum, Chemical and Consumer Group of ABB Automation, Norwalk, Connecticut, has signed a worldwide teaming agreement with InControl Technologies, Inc., Houston, Texas. Clients who use the comb..
ABB Lummus Global, SINOPEC TECH awarded plant expansion ABB Lummus Global has been awarded two projects by the Beijing Yanshan Petrochemical Group Co. The first is for the design of two new 100-Mtp..
Dresser-Rand Co., Olean, New York, and Silvertech Int'l. plc, Houston, Texas, have agreed to jointly pursue rotating equipment and unified process control and safety system business opportunities, for..
Balcke-Dürr Energietechnik GmbH, Germany, has merged with US American Thermal Engineering International Corp. to form BDT Engineering, Inc. Both companies are manufacturers of power plant equipme..
Delta Hudson awarded major project Delta Hudson Engineering Ltd., a unit of McDermott Int'l. Inc., has been selected by Aux Sable Liquid Products LP to supply engineering and procurement services f..
Brackett Green USA, Inc., Houston, Texas, and sister company Geiger GmbH have formed a joint venture company with Water Services of America (WSA ) to create BG-WSA, Inc. The new firm brings together t..
Current Digital Edition
Sign up to Receive Our Newsletter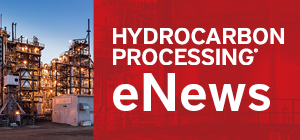 Latest News
Construction Boxscore: Project Spotlight
Project:
Long Son Petrochemicals Complex
Location:
Long Son, Vietnam
Operator:
Siam Cement Group
Cost:
$5.4 B
Capacity:
1.65 MMtpy
Completion date:
2023
Status:
Under Construction