ABB to construct grassroots facility for Monsanto ABB Lummus Global has been awarded a lump sum turnkey contract by Monsanto Co. for a grassroots chemical intermediate facility. The new complex wil..
AUMA Actuators, Inc., Pittsburgh, Pennsylvania, a manufacturer of electric valve actuators for water, power generation, refinery and process industries, has acquired the electric actuator division of..
Bray Int'l., Houston, Texas, a worldwide leader and innovator in process control automation, has purchased Flow-Tek, Inc., Columbia, South Carolina. Terms of the acquisition were not disclosed. Flow..
BP Amoco, BASF commission new purification unit BP Amoco and BASF have commissioned a new acetronitrile purification unit at the BASF nylon intermediates facility at Seals Sands, UK. The 9-Mtpy-cap..
Borsig Energy GmbH, Ratigen, Germany, a reputable company operating in the gas turbine business through Tuma Turbomach SA, Switzerland, has acquired majority interest in MDE Gasturbinen GmbH, Augsb..
Enterprises Products Partners L.P., Houston, Texas, has agreed to general terms and conditions for the purchase of Kinder Morgan Energy Partners L.P.'s 25% indirect ownership interest in the 210-Mb..
Eni: Snamprogetti to build natural gas liquids complex Qatar General Petroleum Corp. (QGPC) has awarded Snamprogetti – an international E/C contractor and technological company of Italy's ENI ..
ABB Automation, Inc., Houston, Texas, a division of ABB, has signed a three-year strategic alliance agreement with Tesoro Hawaii Corp., Honolulu, Hawaii. This alliance will form the basis for a long-t..
The Technip Group, Houston, Texas, has acquired The KTI Group, Mannesman. This includes U.S. operations of KTI Corp. and KTI Fish Inc. The U.S. operations are consolidated and will operate under the n..
HOVENSA awards Jacobs major contract Jacobs Engineering Group Inc., through its wholly owned subsidiary Jacobs Pan-American Corp., has been awarded key maintenance activities at the HOVENSA refiner..
Current Digital Edition
Sign up to Receive Our Newsletter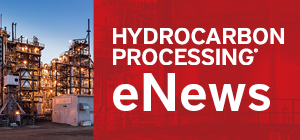 Latest News
Construction Boxscore: Project Spotlight
Project:
Long Son Petrochemicals Complex
Location:
Long Son, Vietnam
Operator:
Siam Cement Group
Cost:
$5.4 B
Capacity:
1.65 MMtpy
Completion date:
2023
Status:
Under Construction