Global energy markets are reaching a new equilibrium, according to Wood Mackenzie analysts. As demand shifts to the East, it will expand to extraordinary proportions. However, the world finds itself i..
For years, technology experts and engineers have discussed the elements and operations that will define the refinery of the future. The refining industry has made great progress from the early days. H..
This year is nearly half over; however, the energy industry is more optimistic about the market and economy according to Ernst & Young's (EY's) recent 10th biannual Oil and Gas Capital Confi..
The total liquid supply growth by non-OPEC countries continues to rise and is estimated to reach 54 million bpd (MMbpd) in 2014. Increasing crude oil supplies from North America are contributing to sh..
The shale gas boom has largely been associated with North America. The luck of this region regarding shale gas is the result of 20 years of hard R&D efforts by Texas oilman George P. Mitchell and the ..
Frank Popoff, retired chairman and CEO of the Dow Chemical Co., shared his insight on the petrochemical industry at the AFPM's 2014 International Petrochemical Conference (IPC). With a career spa..
The OPEC Reference Basket for crudes fell $1.23 in March. Changes in the crude oil markets are attributed to a slowdown in China's economy and reduced crude oil demand by refineries. Non-OPEC sup..
Many metrics can be used to define the top-performing downstream companies. Often, it includes financial (profits) results, environmental and safety performance, equipment availability and more. Howev..
Have we reached peak oil, again? No; the naysayers have predicted peak oil five times already, and innovative technologies continue to overcome previous barriers and to find new methods of developing ..
There are an estimated 8 trillion bbl of heavy oil reserves located throughout the world, as shown in Fig. 1. The quest now is how to cost-efficiently bring these reserves of "dirty oil" to ..
Current Digital Edition
Sign up to Receive Our Newsletter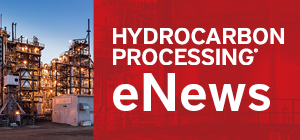 Latest News
Construction Boxscore: Project Spotlight
Project:
Long Son Petrochemicals Complex
Location:
Long Son, Vietnam
Operator:
Siam Cement Group
Cost:
$5.4 B
Capacity:
1.65 MMtpy
Completion date:
2023
Status:
Under Construction