Oil price volatility returned with a vengeance in October amid worries of slower economic growth, weakening oil demand, an unexpected increase in Libya's output, and an indication by Saudi Arabia..
The HPI continues to expand to meet increasing demand for energy, transportation fuels, and petrochemical-based consumer products. As confirmed by HP's HPI Market Data 2015 forecast, numerous construction projects are under various stages of development for the refining, petrochemical and gas processing/LNG industries.
Cyber security is still a critical issue that the hydrocarbon processing industry (HPI) must address. Speaking at the American Fuel and Petrochemical Manufacturers Q&A and Technology forum in Denver, ..
The hydrocarbon processing industry (HPI) has known for some time that a great shift change is eminent. The experienced engineers, chemists and crafts hired in the 1970s and 1980s are reaching retirem..
Process data converted into information becomes knowledge for HPI companies. With such knowledge or insight, HPI companies can effectively protect their assets and strengthen their position with the m..
Demand for transportation fuels will continue to increase over the next 15 to 25 years. These fuels will still be primarily based on crude oil. Developing nations are driving growing demand for energy..
Ethylene is the bellwether petrochemical. Almost all petrochemicals begin with ethylene and proceed to other major petrochemicals, including polyethylene (PE), ethylene dichloride, ethylbenzene and et..
At mid-year, the global demand for oil remains steady, and growth is forecast to average about 1.13 million bpd (MMbpd). Analysts are more optimistic for greater demand increases in 2015 at 1.21MMbpd,..
For European refiners, the economic situation remains clouded. The 2008 global recession sent this region into a financial downward spiral. Conditions are improving, but they still lag behind other de..
Growing supplies by non-OPEC countries has introduced some calm for crude oil prices. However, other factors are influencing profitability and margins. In the US, the abundance of shale oil and the 40..
Current Digital Edition
Sign up to Receive Our Newsletter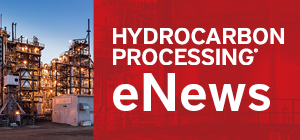 Latest News
Construction Boxscore: Project Spotlight
Project:
Long Son Petrochemicals Complex
Location:
Long Son, Vietnam
Operator:
Siam Cement Group
Cost:
$5.4 B
Capacity:
1.65 MMtpy
Completion date:
2023
Status:
Under Construction