The journey through the last 90 years as chronicled by the headlines of Hydrocarbon Processing has been a unique experience. As in any quest, the high points are too quickly followed by downturns. Som..
In the fourth quarter, the emphasis shifts to planning for next year. Many hydrocarbon processing industry (HPI) companies have completed third-quarter earnings report and are gauging how their perfor..
The only constant is change. In the hydrocarbon processing industry (HPI), change facilitates new discoveries process technologies and products to resolve problems. Likewise, change reshapes markets f..
Maximizing the energy potential from all hydrocarbon resources is the main goal for all nations. More efficient utilization of energy—natural gas, coal and crude oil—facilitates economic gro..
The Valero Port Arthur Refinery was commissioned in 1901 and has had many process additions and improvements throughout its history (see pg. 38). In 2001, nearly $850 million was invested in a delayed..
As summer takes hold in the Northern Hemisphere, demand for energy in various forms increases. In looking back over the past 90 years, energy demand and pricing cycle through high and low points. In 2..
The Gate megaproject is one of Europe's largest LNG terminals. With two jetties, it can unload simultaneously two vessels of the Q-Max type, the world's biggest LNG carriers.
The latest expansion project includes an ethane cracker (EU3), two PE and two PP plants, and a low-density PE (LDPE) unit.
Refiners are leveraging hydrocracking to respond to momentum in global dieselization, with crude prices forcing refiners to process distressed crudes and difficult feedstock.
Mark Finley, general manager of Global Energy Markets for BP America, shared BP's view on future global energy at the Baker Institute Energy Forum. According to the BP Statistical Review of World Ener..
Current Digital Edition
Sign up to Receive Our Newsletter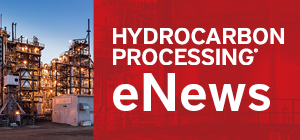 Latest News
Construction Boxscore: Project Spotlight
Project:
Long Son Petrochemicals Complex
Location:
Long Son, Vietnam
Operator:
Siam Cement Group
Cost:
$5.4 B
Capacity:
1.65 MMtpy
Completion date:
2023
Status:
Under Construction