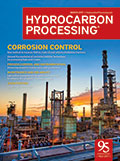 March 2017
Special Focus: Corrosion Control
Improve understanding of corrosion inhibitor technology for processing high-acid crudes
For corrosion risk assessment and control, ample published research exists on the inherent corrosivity of combinations of naphthenic acid and sulfur in refining systems, but not on the chemistry and mechanism of corrosion inhibitors. This work offers refinery engineers insight into the construction of corrosion inhibitor molecules, as well as how differences in molecules impact the performance of the inhibitor and the risk of fouling in crude units and hydroprocessing units.
Hybrid technique for electroslag strip cladding of critical process equipment
One of the major challenges in the oil and gas processing industry is to strike a balance among handling the changing qualities of petroleum products and byproducts, increasing the productivity and service life of critical components and reducing environmental hazards. As an example, new refineries are moving to applying conversion methods, such as hydrocracking, to increase yields, while also utilizing conventional distillation. This juxtaposition translates into a higher Nelson Index rating. Greater refinery complexity makes processing low-quality crude oil difficult, if not impossible, thereby precluding bottom-of-the-barrel products.
Maintenance and Reliability
Implement proactive asset management techniques
The drop in crude oil prices since 2014 has impacted both upstream producers and downstream players. Upstream producers—those responsible for exploration, drilling and production—were the first to feel the effects. While refining margins benefitted from the drop in crude oil pricing, they began to suffer when record surpluses of gasoline and diesel flooded the market a year later.
Process Control and Instrumentation
Advance analytics to keep pace with production
Predicting the state of the energy industry a year or two from now is difficult. At best, potential scenarios can be envisioned, as in the International Energy Agency's (IEA) World Energy Outlook 2016. Through this analysis of data and market reports, the IEA casts its projections for different scenarios to the year 2040. The IEA expects the fastest growth to occur in renewable energy, given recent climate pledges by global governments.
Fluid Flow and Rotating Equipment
Environment and Safety
Alternatives to flare gas recovery for sour refinery flare gas
For many sour gas streams present in a flare header, less expensive options than flare gas recovery may exist. The compressors, liquids management, downstream treating and other systems required for flare gas recovery (FGR) can be expensive to install and/or operate reliably. Some refineries allow the flaring of sweet gases.
Columns
Trends and Resources
Current Digital Edition
Sign up to Receive Our Newsletter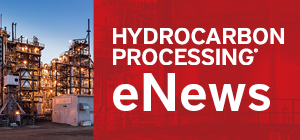 Latest News
Construction Boxscore: Project Spotlight
Project:
Long Son Petrochemicals Complex
Location:
Long Son, Vietnam
Operator:
Siam Cement Group
Cost:
$5.4 B
Capacity:
1.65 MMtpy
Completion date:
2023
Status:
Under Construction