Noland, J.
James Noland is the General Manager of Refining and Petrochemicals–North America for Dorf Ketal. He has 20 yr of experience in risk management, process engineering and specialty chemical sales and service for the refining and petrochemical industries. Before joining Dorf Ketal, Mr. Noland was the Process Engineering Team Leader for ConocoPhillips at the Borger refinery, and held technical, sales and management roles in CPI and refining for Nalco. He holds a BS degree in chemical engineering from Mississippi State University.
The manufacturing of styrene commonly uses 2,4-dinitro-6-sec butylphenol (DNBP) as a retarder to protect against styrene polymer formation.
For corrosion risk assessment and control, ample published research exists on the inherent corrosivity of combinations of naphthenic acid and sulfur in refining systems, but not on the chemistry and mechanism of corrosion inhibitors. This work offers refinery engineers insight into the construction of corrosion inhibitor molecules, as well as how differences in molecules impact the performance of the inhibitor and the risk of fouling in crude units and hydroprocessing units.
Current Digital Edition
Sign up to Receive Our Newsletter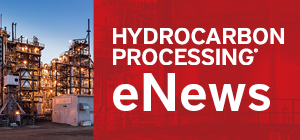 Latest News
Construction Boxscore: Project Spotlight
Project:
Long Son Petrochemicals Complex
Location:
Long Son, Vietnam
Operator:
Siam Cement Group
Cost:
$5.4 B
Capacity:
1.65 MMtpy
Completion date:
2023
Status:
Under Construction