Önen, M. F.
Mehmet Fatih Önen is an Operations Supervisor, responsible for the daily operations at the Tupras' Izmit refinery, including maintenance of units; optimization of production; and troubleshooting and monitoring of FCC and LPG Merox units, caustic neutralization, and CD and VD units. He earned BS and MS degrees in chemical engineering from ITU.
Operational flexibility is one of the key parameters that leads to success and sustainability in refinery production.
The fluid catalytic cracking unit (FCCU) is one of the main units providing gasoline with high-octane numbers to the refinery gasoline pool.
Current Digital Edition
Sign up to Receive Our Newsletter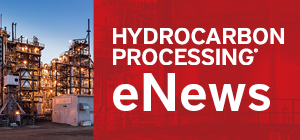 Latest News
Construction Boxscore: Project Spotlight
Project:
Long Son Petrochemicals Complex
Location:
Long Son, Vietnam
Operator:
Siam Cement Group
Cost:
$5.4 B
Capacity:
1.65 MMtpy
Completion date:
2023
Status:
Under Construction