Unless you have been living under a rock for the past few years, you should have heard about the upcoming ISO 55000 Asset Management Systems standard. How will this impact the hydrocarbon processing i..
Over the last decade, field instrumentation and analytical chemistry device suppliers have made tremendous progress incorporating value-added functionality into intelligent devices. This includes enha..
Globally, the process industries lose the equivalent of 5% of production annually because of unscheduled downtime and poor product quality. ARC Advisory Group estimates that almost 80% of these losses..
The global process industries lose $20 billion, or 5% annual production, due to unscheduled downtime and poor quality. ARC estimates that almost 80% of these losses are preventable. In fact, 40% of th..
Industries across the board are coping with relentless pressure to reduce costs while simultaneously improving product quality. The hydrocarbon processing industry (HPI) has an additional challenge in..
Organizations in the hydrocarbon processing industry (HPI) and elsewhere frequently underestimate the value of the analytical laboratory to the enterprise. The perception is that the lab is a cost cen..
According to the US Department of Energy, industry accounts for about a third of all energy used in the US. Despite the recent drop in energy prices, energy remains the second leading cost pressure (b..
Each day hydrocarbon processors perform hundreds of chemical analyses to ensure product quality, meet regulatory and safety standards, and, most importantly, minimize product quality giveaway. To keep..
Pumps are the second most utilized machines in the world. According to the Hydraulics Institute (HI), industry's primary forum for exchange of pump information, industrial pumping systems account for ..
Current Digital Edition
Sign up to Receive Our Newsletter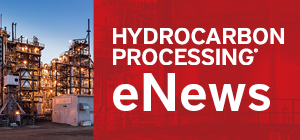 Latest News
Construction Boxscore: Project Spotlight
Project:
Long Son Petrochemicals Complex
Location:
Long Son, Vietnam
Operator:
Siam Cement Group
Cost:
$5.4 B
Capacity:
1.65 MMtpy
Completion date:
2023
Status:
Under Construction