George, S.
Stephen George has 28 yr of experience in international oil and energy markets. He joined KBC as a Hydroprocessing Technology Specialist in 2001 and worked as a refining analyst in the company's energy economics group from 2005 until he was named Chief Economist in 2013. Mr. George holds a BS degree in chemical engineering from the University of Michigan and an MBA from Kingston University in the UK. Prior to joining KBC, he worked for the technology licensor UOP for 11 yr.
Alternatively fueled vehicles (AFVs) are getting plenty of press these days, but their market penetration is still a long way from critical mass.
Europe's refiners, through their industry organization Fuels Europe, have set out their long-term ambitions in a new program called Vision 2050.
A new era of game-changing competition is about to take over and transform the refining industry as we know it.
Current Digital Edition
Sign up to Receive Our Newsletter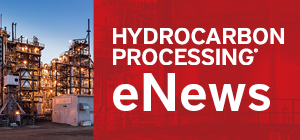 Latest News
Construction Boxscore: Project Spotlight
Project:
Long Son Petrochemicals Complex
Location:
Long Son, Vietnam
Operator:
Siam Cement Group
Cost:
$5.4 B
Capacity:
1.65 MMtpy
Completion date:
2023
Status:
Under Construction