Biofuels are growing up in Europe. From an exotic outlet for European Union (EU) agricultural product in the 1990s, to a boutique fuel for the green consumer in the 2000s, now today's industry ha..
The economic pressures that have progressively ring-fenced oil products for the transportation sector over the last 40 years are about to get a significant boost from Europe's new world-spanning ..
Here is a thesis on energy that's being expounded at the heart of European policy-making these days: Thirty years after peak oil per capita and at the apex of peak globalization, the machines and..
These are nervous times in energy markets and on the bridges of oil tankers. Things are going belly up for oil users (which is everyone). And, as I fly home from International Petroleum (IP) week in L..
Like for the local couple that went long-distance ice skating here on the Swedish west coast recently, there are disconcerting rumblings of change underfoot in the European refining industry. This cou..
Although I've watched it coming, it still feels like a historic moment to see the oil industry pack up its things and leave. If you sell catalysts, pumps, inspection services, display ads or anti..
In November 2009, I wrote about how the world's downstream consultants seemed almost to be vying to ring up the most pessimistic prognosis for refinery closures. A year on, there's little to..
European refiners are nearing the end of a decade of rapid change—some might say a revolution—in fuel specifications. For road fuels, at least, sulfur levels have gone from being a political..
"Analyze this" is the fad quote and action that actor Robert De Niro famously demands of his unwilling therapist in the film of the same name. Playing Paul Vitti, a New York gangland supremo..
This month, I had a chance to verify my armchair thesis that all liquid biofuels will end up in the air—diverted to the passenger aviation industry and the world's air forces. At a fuel forum att..
Current Digital Edition
Sign up to Receive Our Newsletter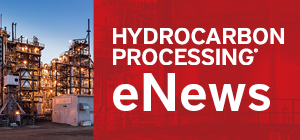 Latest News
Construction Boxscore: Project Spotlight
Project:
Long Son Petrochemicals Complex
Location:
Long Son, Vietnam
Operator:
Siam Cement Group
Cost:
$5.4 B
Capacity:
1.65 MMtpy
Completion date:
2023
Status:
Under Construction