Kumar, P.
Pramod Kumar is a Deputy General Manager in the Corporate R&D Center of Hindustan Petroleum in Bengaluru, India. He has more than 18 yr of experience in process design, research, engineering and technical services in the areas of FCC, visbreaking and delayed coking. He is responsible for commercialization of FCC feed nozzles and catalytic visbreaking processes. Mr. Kumar holds an MTech degree in chemical engineering from the Indian Institute of Technology at Kanpur. He also holds more than 10 patents in the area of FCC process and catalyst.
Fluid catalytic cracking (FCC) is one of the most important conversion processes used in petroleum refineries and has been in use for more than 75 yr.
Vegetable oils are a renewable biomass resource used in the production of biofuels. Biodiesel production from transesterification of vegetable oils (fatty acid methyl ester, or FAME) is the primary route for producing biofuels from vegetable oils.
Visbreaking technology is a well-known, simple thermal cracking process for residual oils.
With the greater processing of heavy crude oils in refineries, the importance of fluid catalytic cracking units (FCCUs) has increased.
Current Digital Edition
Sign up to Receive Our Newsletter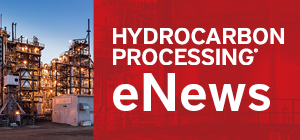 Latest News
Construction Boxscore: Project Spotlight
Project:
Long Son Petrochemicals Complex
Location:
Long Son, Vietnam
Operator:
Siam Cement Group
Cost:
$5.4 B
Capacity:
1.65 MMtpy
Completion date:
2023
Status:
Under Construction