Nandagopalu, N. V. N.
N. V. N. Nandagopalu is the head of Operations and Technical Services at Chennai Petroleum Corp. Ltd.'s Cauvery Basin refinery. He holds a chemical engineering degree from Coimbatore Institute of Technology, Coimbatore, India, and an MS degree in business management from the University of Madras, Chennai, India. He has more than 27 yr of experience in refinery operations, including production, advanced process control, production planning, refinery business optimization, refinery scheduling, shipping, process engineering, energy management and environment management.
Solvent deasphalting (SDA) is emerging as a low-cost, bottom-of-the-barrel upgrading process to recover valuable oil from short residue. This oil can either be further processed to make lube-oil-based stocks or cracked in secondary processing units.
Current Digital Edition
Sign up to Receive Our Newsletter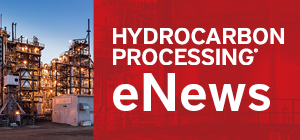 Latest News
Construction Boxscore: Project Spotlight
Project:
Long Son Petrochemicals Complex
Location:
Long Son, Vietnam
Operator:
Siam Cement Group
Cost:
$5.4 B
Capacity:
1.65 MMtpy
Completion date:
2023
Status:
Under Construction