The recent shift to lighter crudes has starved many US heavy oil units of feed. Maximizing asset use makes importing heavy oil for vacuum distillation and delayed coking attractive.
CASE STUDYThe basis for this case study is shown in Fig. 18; it is a crude unit with overhead heat integration. This is a one-drum overhead system with heat integration and no water wash. In an attemp..
Up to 50% of the refinery's entire corrosion expense may occur in the crude unit. The root causes of the fouling and corrosion issues are often linked to the basic unit configuration choices, as ..
In a refinery crude distillation column, up to 40% of the total heat removal may be found in the tower overhead condenser. The quantity of duty available makes heat integration (HI) between the column..
New approaches fine-tune methods to separate more diesel as product stream
Better tray design techniques reveal dynamics to improve minimum liquid load conditions
Advanced fluid dynamics modeling fine-tunes vacuum separations that improve products' qualities and increase unit reliability
How failure occurs from blowing and what can be done to prevent it
Several processing options can create a high-sulfur heavy cat naphtha that concentrates FCC sulfur into one stream
In this case history, a refiner uses simulation models with plant test data to debottleneck a crude unit
Current Digital Edition
Sign up to Receive Our Newsletter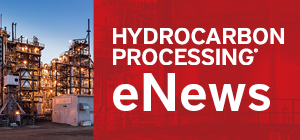 Latest News
Construction Boxscore: Project Spotlight
Project:
Long Son Petrochemicals Complex
Location:
Long Son, Vietnam
Operator:
Siam Cement Group
Cost:
$5.4 B
Capacity:
1.65 MMtpy
Completion date:
2023
Status:
Under Construction