Traditionally, the various production management and asset management systems in the hydrocarbon processing industry (HPI) and other heavy industries resided in silos with separate management, archite..
Present 3D laser scanning (3DLS) technology can be used in many diverse applications; it assists in improving efficiency and quality, and reducing time-to-benefit. For discrete industries, 3DLS can sa..
Moving to a sustainable manufacturing model requires significant changes throughout the enterprise. Some HPI companies use a top-down approach in which senior managers set targets to which engineers a..
Current Digital Edition
Sign up to Receive Our Newsletter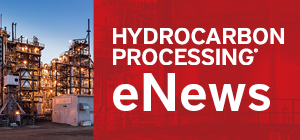 Latest News
Construction Boxscore: Project Spotlight
Project:
Long Son Petrochemicals Complex
Location:
Long Son, Vietnam
Operator:
Siam Cement Group
Cost:
$5.4 B
Capacity:
1.65 MMtpy
Completion date:
2023
Status:
Under Construction