After a busy first half of 1997, transactions in the refining sector seemed to slow somewhat – virtually no deals were made after my June 1997 column on refining consolidation. This proved to be ..
Last month in the "Editorial," I discussed the new low-sulfur proposal presented by a coalition of U.S. refiners. I mentioned that the U.S. Environmental Protection Agency (EPA) was due to release a d..
The U.S. oil industry last month proposed a regulatory plan for lowering sulfur levels in gasoline. This proposal, released on March 20, is to accompany EPA's Tier II emission standards for vehicles, ..
Although recent economic and financial happenings in Asia-Pacific have shifted everyone's focus there, it is not the only area of the world projected to have major changes over the next few years. Eur..
A growing concern for the environment (example: December's Kyoto conference) is driving worldwide demand for cleaner fuels and feedstocks. And although there have been some fascinating developments in..
Events unfolding in California over the past few months could signal the end of the use of MTBE as a gasoline additive. Arising concerns over water contamination from leaking gasoline underground stor..
One of the privileges of the editor's job is that we regularly get "desk copies" of newly published books. Although HP does not have an official column for book reviews, recently I have received some ..
Worldwide capital spending for refining-related projects is expected to reach a record $17.2 billion in 1998, according to the recently published 1998 HPI Market Data.1 Spending is up in all regions o..
This December, an event will occur that could have significant repercussions on the worldwide refining industry through the next decade. The event is the 1997 Convention on Climate Change in Kyoto, Ja..
Great, it happened again. As soon as an "HP In Processing" is printed, along comes some information or an article that supports the opposite of what I had written. Just one of the occupation..
Current Digital Edition
Sign up to Receive Our Newsletter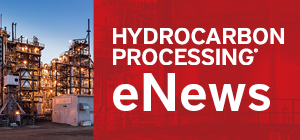 Latest News
Construction Boxscore: Project Spotlight
Project:
Long Son Petrochemicals Complex
Location:
Long Son, Vietnam
Operator:
Siam Cement Group
Cost:
$5.4 B
Capacity:
1.65 MMtpy
Completion date:
2023
Status:
Under Construction