Toyo Engineering Corp. (TOYO) and Hyundai Engineering and Construction Co. Ltd. (Hyundai) have jointly received a lump-sum contract for the engineering, procurement and construction of a liquid proces..
Dahua Group Ltd. has a licensing agreement with GE Energy to use its gasification technology at a chemical production facility. It will be utilized to expand Dahua Group's plant in Dalian, Liaoning, C..
Robust growth throughout HPI sectors
Air Liquide Large Industries U.S. LP has selected CB&I to provide a large-scale hydrogen (H2) production facility that will be built at ConocoPhillips' refinery in Rodeo, California. The unit will sup..
Meridium Inc. has a contract with Braskem which operates 14 petrochemical plants in Latin America. The facilities have a production capacity of more than 5 million tpy of chemical and petrochemical pr..
MB Inspection has a three-year contract with options to extend by Shell UK Oil Products Ltd. The agreement is to supply dinitro toluene (DNT) and inspection personnel at Shell's Stanlow Manufacturing ..
PAS has a contract with Sasol for its multi-site operations effectiveness initiative. The campaign includes deploying both alarm management and control-loop performance software across multiple Sasol ..
ConocoPhillips and International Petroleum Investment Co. signed a memorandum of understanding to identify new upstream and downstream opportunities for joint investment. The parties also signed a hea..
Dresser-Rand (D-R) has a $17 million contract for compression equipment with Shenhua Coal Liquefaction Corp., Inner Mongolia, China. D-R will provide four six-throw BDC process reciprocating compresso..
Lyondell Chemical Co. is executing a company-wide agreement with TiPS Inc. to license TiPS LogMate AMS alarm management software. The computer program is claimed to be a full-featured alarm management..
Current Digital Edition
Sign up to Receive Our Newsletter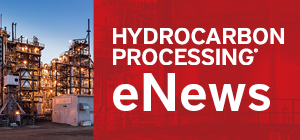 Latest News
Construction Boxscore: Project Spotlight
Project:
Long Son Petrochemicals Complex
Location:
Long Son, Vietnam
Operator:
Siam Cement Group
Cost:
$5.4 B
Capacity:
1.65 MMtpy
Completion date:
2023
Status:
Under Construction