Study: US demand for engineering plastics to rise steadily through 2019
4/8/2015 12:00:00 AM
Demand for engineering plastics in the US is expected to rise 2.6%/year to 5.1 billion pounds in 2019, according to new study from The Freedonia Group, a Cleveland-based industry market research firm.
Replacement of metal parts with engineering plastics will continue to drive growth, as will new technological advancements that allow engineering plastics to penetrate new applications. 
Demand for engineering plastics will be tempered by weak growth in mature markets, however, in addition to increasing competition from lower-cost commodity resins.
The largest markets for engineering plastics will continue to be the motor vehicle and electrical and electronic markets. The motor vehicle market will increasingly rely on engineering plastics to reduce vehicle weight in order to improve fuel efficiency. However, the construction and the medical and consumer markets will provide the fastest growth.  
Nylon, acrylonitrile-butadiene-styrene (ABS), and polycarbonate will continue to be the three largest engineering plastics by volume, accounting for three-quarters of total demand in 2019.  
Nylon will post the most rapid increases of the three and will remain the largest engineering plastic. 
"This growth will be mainly driven by nylon supplanting metals in underhood motor vehicle applications," said analyst Joseph Kocian. 
Gains for ABS will be the slowest of all engineering plastics, restrained by competition from lower-cost resins and maturity in major applications. Polycarbonate will benefit from strong growth in the construction and the medical and consumer markets, but overall will track the industry average due to the continued decline in CD and DVD sales.
Smaller-volume engineering plastics such as polyphenylene sulfide, sulfone polymers, fluoropolymers, and polyketones will exhibit the fastest growth. Specialized use in mature markets, as well as utilization in new products such as advanced batteries, photovoltaic modules, and medical implants, will drive overall demand. These resins will see greater use in electrical and electronic and motor vehicle markets, where they are typically used to fill specific high-temperature needs and their greater cost can be economically justified.
More information on the study, including information on how to purchase it, can be found at 
www.freedoniagroup.com.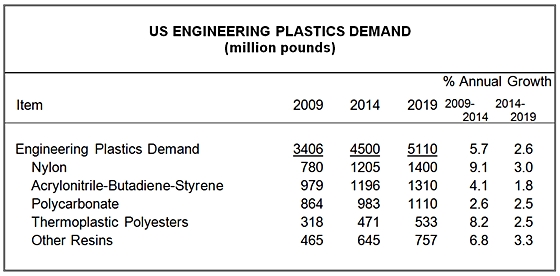 Related News
From the Archive
Comments