Kim, E.
Eunho Kim is a Junior Engineer on the Stationary Equipment Engineering team at SK energy. He is in charge of the FCCU, and has 5 yr of experience in detailed design and maintenance of equipment. He earned a BS degree in mechanical engineering from Inha University in South Korea.
The sulfur recovery unit (SRU) separates sulfur from sulfur compounds.
Many end users are trying to use feedstock with higher sulfur content for their refineries to increase profitability, but numerous unknown or plausible bottlenecks exist.
Current Digital Edition
Sign up to Receive Our Newsletter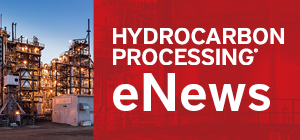 Latest News
Construction Boxscore: Project Spotlight
Project:
Long Son Petrochemicals Complex
Location:
Long Son, Vietnam
Operator:
Siam Cement Group
Cost:
$5.4 B
Capacity:
1.65 MMtpy
Completion date:
2023
Status:
Under Construction