Oirere, S.
Shem Oirere is a freelance journalist based in Nairobi, Kenya. He has spent more than 10 years covering various sectors of Africa's economy, including construction, chemicals, energy and water, and has had numerous articles published in several international publications and websites. Previously, Mr. Oirere worked for Kenyan national newspapers, including the Daily Nation, Kenya Times and The People Daily, where he served in various capacities as correspondent, business reporter and sub-editor. He earned a higher degree in journalism from the London School of Journalism and is also a member of the Association of Business Executives (ABE).
Demand for refined oil products is expected to continue growing in Africa, both in the short and medium terms. However, the continent's refining capacity is unlikely to keep pace as commercial risks threaten to hold back planned new refineries and the expansion of existing facilities.
Oil-rich Nigeria's new presidential administration has announced several changes in the country's oil sector, as it sets out to fulfill a pre-election campaign pledge by President Muhammadu Buhari to streamline the West African nation's hydrocarbon industry.
Angola's constrained crude oil refining capacity has forced the country to import up to 80% of its petroleum consumption, despite the southern African nation being the continent's second-largest crude oil exporter with an estimated 9 Bbbl of proved crude oil reserves.
Egypt is adopting a mix of investment strategies in refinery upgrades and construction of new capacity to meet the nation's target for more high-quality light and middle distillate products and a reduction of transportation fuel imports.
Uganda is proceeding with the construction of a $2.5-B, 60-Mbpd crude oil refinery with approvals from analysts for this landlocked country's downstream plans. The engineering, procurement and co..
The challenges facing Africa's drive to a clean fuel regime are captured by a success story in South Africa and a heartbreaking tale in Kenya, with both countries striving to achieve low-sulfur (..
Current Digital Edition
Sign up to Receive Our Newsletter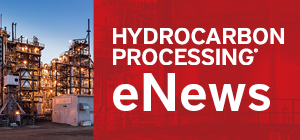 Latest News
Construction Boxscore: Project Spotlight
Project:
Long Son Petrochemicals Complex
Location:
Long Son, Vietnam
Operator:
Siam Cement Group
Cost:
$5.4 B
Capacity:
1.65 MMtpy
Completion date:
2023
Status:
Under Construction