Sandu, C.
Corina Sandu leads R&D projects at Baker Hughes. She is responsible for R&D for both upstream and downstream, working on chemical and instrumental platforms to mitigate corrosion, fouling and contaminants levels. Dr. Sandu has 13 years of experience in the oil and gas industry. She is a member of the American Chemical Society and the Society of Petroleum Engineers, and she has authored 24 technical publications and holds 12 patents. Dr. Sandu holds a PhD in materials chemistry from the University of Houston and a post-doctorate from Rice University.
Cooling water systems play a critical role in the efficient operation of hydrocarbon processing facilities.
New monitoring protocols can provide advance warning of any negative aspects of shale oil processing, thus enabling the refiner to take corrective measures early.
A better understanding of asphaltene stability in crude oils allows refiners to increase blending of 'opportunity' feedstocks
Current Digital Edition
Sign up to Receive Our Newsletter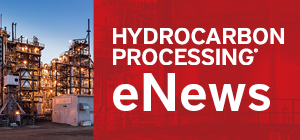 Latest News
Construction Boxscore: Project Spotlight
Project:
Long Son Petrochemicals Complex
Location:
Long Son, Vietnam
Operator:
Siam Cement Group
Cost:
$5.4 B
Capacity:
1.65 MMtpy
Completion date:
2023
Status:
Under Construction