Engelhart, W. G.
Gary Engelhart is the Product Line Marketing Manager for SpectraSensors. He is responsible for TDLAS analyzer applications in the hydrocarbon processing industries, including natural gas processing, LNG, refining and petrochemicals. He has 25 yr of experience in analytical instrumentation and chemical process equipment.
Raw wellhead natural gas is a complex mixture of methane (CH<sub>4</sub>), hydrocarbon condensates, natural gas liquids (NGL), water, contaminants, hydrogen sulfide (H<sub>2</sub>S), carbon dioxide (CO<sub>2</sub>), nitrogen, mercury and other compounds.
Catalytic reformer units convert naphtha into high-octane aromatic compounds called reformates, which are used in gasoline blending and formulation. UOP developed the catalytic reforming process and brought the first unit into operation in 1949.
Current Digital Edition
Sign up to Receive Our Newsletter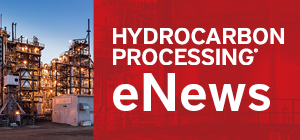 Latest News
Construction Boxscore: Project Spotlight
Project:
Long Son Petrochemicals Complex
Location:
Long Son, Vietnam
Operator:
Siam Cement Group
Cost:
$5.4 B
Capacity:
1.65 MMtpy
Completion date:
2023
Status:
Under Construction