The international symposium "Bhopal and Its Impact on Process Safety" was held at the Indian Institute of Technology in Kanpur, India, December 1 – 3, 2004. Twenty years ago on December 3, 1984, ..
The ISA Standards & Practices' Committee Guide states that its ?purpose is to gather and integrate all pertinent technical information . . . in order to develop the best possible consensus standard.? ..
Use solenoids to partial stroke test block valves
SIS design, operation and maintenance are critical tools to bridge this division
An organization's safety culture can help bridge this void
The terrorist attacks' wake has spilled across many economicsectors, severely damaging industries from airlines to retailing.The greatest threat facing the hydrocarbon processing industries'(HPI) futu..
Current Digital Edition
Sign up to Receive Our Newsletter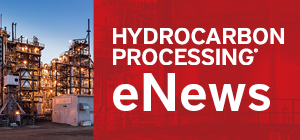 Latest News
Construction Boxscore: Project Spotlight
Project:
Long Son Petrochemicals Complex
Location:
Long Son, Vietnam
Operator:
Siam Cement Group
Cost:
$5.4 B
Capacity:
1.65 MMtpy
Completion date:
2023
Status:
Under Construction