The Marathon Petroleum Corp. board of directors has elected John P. Surma to serve as non-executive Chairman.
Refinery margins in the U.S. Atlantic basin rebounded. Deeper refinery intake cuts, as well as the low feedstock price environment, helped offset unappealing demand-side signals.
Refinery margins came under added pressure, affected by the downturn in product consumption inflicted by COVID-19 pandemic lockdowns.
Porvair Filtration Group has further expanded its range of microfiltration products by launching seven new metallic Compfil™ filters (FIG. 1) for use within process air and gas applications.
In the US and Europe, weaker fundamentals at the middle of the barrel and in the jet fuel segment led to heavy pressure, caused by aviation service disruptions as the Covid-19 outbreak spread.
High product inventory levels and weak heating oil demand continued to weigh on U.S. refining economics. European product markets, except gasoil, exhibited positive performance backed by firm exports and heavy turnarounds in the Middle East.
Motion Industries Inc. has named Chris Pacer as VP of the company's Central Group. Mr. Pacer has spent the last 22 yr with Motion Industries in various key roles after joining the company as a certified fluid power specialist. He was promoted to Branch Manager of the various markets within Northern Ohio and then joined the company's corporate accounts team before being promoted to his latest position of Detroit Division VP and General Manager. In that role, Mr. Pacer was responsible for the further development and overall growth of 22 branch operations and one service center.
Analytical Systems Keco introduces the 205L Laboratory H2S in Liquids Analyzer that quantifies hydrogen sulfide (H2S) in crude oil, fuel oil, naphtha, water, diesel and gasoline. The removal of H2S in crude oil, condensate and other liquid products before transport or storage is imperative to reduce the risk of health and safety issues, as well as product quality control. In addition to providing high precision in testing for H2S in crude oil, the analyzer is fast, offering results within 10 min.–15 min.
US refinery margins continued the downward trend, but the negative impact of the weaker domestic fuel market was partly offset by a rise in total product exports.
The Valve Manufacturers Association of America (VMA) has named Heather Rhoderick as President. She will succeed William "Bill" Sandler, who retired this year after a 40-yr tenure with the organization.
Current Digital Edition
Sign up to Receive Our Newsletter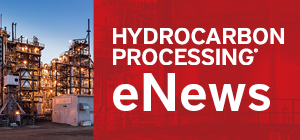 Latest News
Construction Boxscore: Project Spotlight
Project:
Long Son Petrochemicals Complex
Location:
Long Son, Vietnam
Operator:
Siam Cement Group
Cost:
$5.4 B
Capacity:
1.65 MMtpy
Completion date:
2023
Status:
Under Construction