SPECTRO Analytical Instruments has introduced the newest version of its SPECTROGREEN inductively coupled plasma optical emissions spectrometry (ICP-OES) analyzer: the SPECTROGREEN TI, featuring SPECTRO's proven twin interface (TI).
U.S. refinery margins extended their upward trend for the fifth consecutive month, exhibiting the largest upturn relative to other regions.
Cowan Dynamics has made advancements to its "C-PAC Module" Pneumatic Manifold and launched the C-PAC store.
Global refining margins showed mixed results.
Excelerate Energy adds new executive leadership with the promotion of Alisa Newman Hood and the addition of Amy Thompson
H2scan has released its latest product in the HY-OPTIMA™ line of sensors.
Honeywell has released Measurement IQ (MIQ) Optimize, an enterprise-wide solution for monitoring meters, gas chromatographs and other measurement assets. The
<b>Roeland Baan</b> has joined Haldor Topsoe as its new CEO.
Bentley Systems Inc. has opened its ProjectWise 365 cloud service,
Sphera has released a new Interactive piping and instrumentation diagram (P&ID) solution that helps organizations break down silos between their operations, maintenance and engineering departments while simplifying isolation planning.
Current Digital Edition
Sign up to Receive Our Newsletter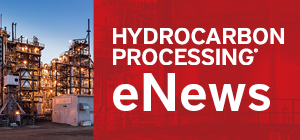 Latest News
Construction Boxscore: Project Spotlight
Project:
Long Son Petrochemicals Complex
Location:
Long Son, Vietnam
Operator:
Siam Cement Group
Cost:
$5.4 B
Capacity:
1.65 MMtpy
Completion date:
2023
Status:
Under Construction