Lukoil has become the first Russian oil company to fuel a Lufthansa (Germany) plane with Jet A-1 fuel. Lukoil reportedly has invested a lot time and money in adjusting its production and fuel supply p..
According to analysts in Moscow, the French Total SA has been given prior approval to buy 25% of Sibneft's shares from Russian authorities. Seemingly, the government is interested in ?continental Euro..
The European Pollutant Emission Register (EPER) was launched in February by the European Commission. EPER is the first Europe-wide register of emissions into air and water from large and medium-sized ..
Total SA's announced plans for heavy investment at its Normandy, France, refinery to significantly increase middle distillates production is sure to bring a smile to some faces in Europe. This latest ..
The situation in the European energy industry continues to show some fluidity, with several companies having their financial ratings reappraised. The news comes as Shell faces international concern ov..
At a time when some oil companies in Central and Eastern Europe are not quite sure what is happening, one company is advancing its plans to become a large player in this increasingly important area. T..
After a year in which the Elf scandalwas finally laid to bed in Paris, eyes are now firmly focused onRussia. Observers continue to try to make sense of what ishappening there with regard to Yukos. Whi..
A new slant appears to be emergingregarding the subject of computerization and information technology(IT) within refineries – the so-called "smart" refinery.Discussions at a recent Euro..
The next 12 months would appear to be extremely active ones if comments made at the recent Central and Eastern European Refining Conference are to be believed. During the course of the conference, whi..
For some time now, the European Commission has been looking at the problem of emissions from ships - both inland and seagoing - as part of its concerns over emissions control and the ro..
Current Digital Edition
Sign up to Receive Our Newsletter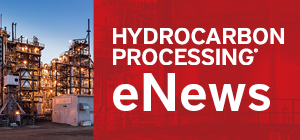 Latest News
Construction Boxscore: Project Spotlight
Project:
Long Son Petrochemicals Complex
Location:
Long Son, Vietnam
Operator:
Siam Cement Group
Cost:
$5.4 B
Capacity:
1.65 MMtpy
Completion date:
2023
Status:
Under Construction