Manenti, G.
Giovanni Manenti has more than 20 yr of experience in process and heat transfer design and R&D activities, and in engineering and pressure vessels manufacturing companies. He is focused on special shell-and-tube heat exchangers, such as process gas boilers for the syngas industry and transfer-line exchangers for steam cracking furnaces, and on heat transfer prototype equipment. Dr. Manenti earned a PhD in chemical engineering from Politecnico di Milano, Italy.
Transfer-line exchangers (TLEs) are specific shell-and-tube heat exchangers installed out of hydrocarbons steam cracking furnaces for olefins production.
Hydrogen sulfide and carbon dioxide represent major concerns for the hydrocarbon industry. Both species are contaminants and, since their use as feedstock is minor, are considered troubling byproducts.
Current Digital Edition
Sign up to Receive Our Newsletter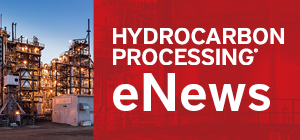 Latest News
Construction Boxscore: Project Spotlight
Project:
Long Son Petrochemicals Complex
Location:
Long Son, Vietnam
Operator:
Siam Cement Group
Cost:
$5.4 B
Capacity:
1.65 MMtpy
Completion date:
2023
Status:
Under Construction