Brooks, M.
Mike Brooks is Global Director, APM Solutions at AspenTech. Previously, he was the Chief Operating Officer at Mtell, which pioneered machine-learning for managing the health of industrial equipment. He has also served as a venture executive with Chevron Technology Ventures and held senior roles at five startups. Brooks began his career as an engineer at Esso and Chevron.
According to Löfsten, "the costs of maintenance are estimated to be between 15% and 40% of production costs." Consequently, efforts to reduce such costs without compromising risk to equipment, personnel safety and environmental integrity are welcomed.
Artificial intelligence (AI) has caused a significant buzz not only within the hydrocarbon processing industry but also in everyday activities.
Current Digital Edition
Sign up to Receive Our Newsletter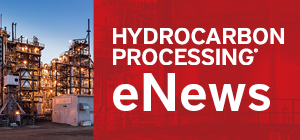 Latest News
Construction Boxscore: Project Spotlight
Project:
Long Son Petrochemicals Complex
Location:
Long Son, Vietnam
Operator:
Siam Cement Group
Cost:
$5.4 B
Capacity:
1.65 MMtpy
Completion date:
2023
Status:
Under Construction